by Sherri Smith ( prepared by Love To Cook )
For the sponge cake
8 eggs extra large
1-1/4 cup sugar
1-3/4 cup all purpose
1/2 tsp salt
2 pouch vanilla
70gr butter
Preheat the over to 350 degree. Place the eggs and sugar in a mixing bowl and set the bowl over a pot of boiling water, the water should not touch the bowl. Beat the eggs and sugar together for 1 minute, with the wire whisk. Then, with the bowl away from the heat, beat with the mixer at high speed for 2 minutes, then for 5 minutes more at low speed or until the mixture is very pale adn falls from the wooden spoon in a smooth ribbon.
Clarify the butter in a small saucepan. Sift the flour and vanilla sugar, then fold into the egg-sugar mixture. Fold in the warm butter. Stop mixing as soon as all of the ingredients are well blended. This step should be done quickly and the cake should be baked right away.
Pour the batter into the buttered and floured pan and bake for 30 minutes or until golden brown. Let the cake cook for about 10 minutes, then turn out onto a rack, while still warm. Let cool completety before using.
Italian Meringue
650gr sugar
170ml water
400gr egg whites
150gr sugar
Boil 650gr sugar and the water to 240F
Beat the egg whites until sitff and tighten them with 150gr sugar
When the sugar reaches 240F, pout it slowly on the egg whites while mixing at low speed. Beat at high speed until completed cooled.
Butter cream
220g egg yolks
280gr sugar (140+140), 270ml milk, 2 vanilla pod, 670gr butter, 340g italian meringue
Boil the milk with 140g sugar and the vanilla pods spliced lengthwise
Beat the egg yolk with the remaining sugar until it gets pale and foamy. Pour the boiled milk on the eggs mixture. Beat up with a hand mixer until completely cooled. Combine the mixture with the butter and italian meringue.
Kirsch syrup
3 Tbsp sugar and 6 Tbsp water, boiled and cooled then mixed with kirsch to taste.
2lbs strawberries
Cut the sponge cake in half horizontally, with a pastry brush, douse the cake well with 1/2 of the kirsch syrup. Spread the cake with a layer of butter cream. It may be up to 1/2 in thick, so the strawberries can be se well into it. Arrange the sliced strawberries across the cake, then spread butter cream on top. Now douse the underside of the second layer of cake with the remaining kirsch syrup and place on top over the strawberry and butter cream filling. With a metal spatula, spread the remaining butter cream to cover the cake and decorate with strawberries. Refrigerate for 1 hour before serving.
Muốn làm bánh tròn hay vuông cũng đưọc, tuỳ theo ý thích của mình.
Nếu muốn light hơn thì ở ngoài trét bằng whipped cream, giống Ltc làm
hôm nay.
[align=center][/align][align=center]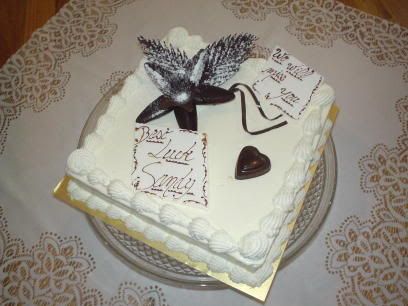 [/align]